Retirement Living at its Best
What makes The Fountains different? You can sense the difference the moment you enter our senior living community.  You will feel our warmth and sincerity and you will notice our true love for seniors. Our friendly, welcoming community is one where neighbors know each other by name and are part of a family-like atmosphere.
Locally owned and operated, The Fountains is located in the heart of West County in St. Louis, minutes from everything that you love. Our owners are on-site and accessible to our residents along with being involved with the day-to-day operations. This allows our team to provide 100-percent resident-centered care.
We offer a variety of programs to our Residents to keep them independent for as long as possible.  Our continuum of care offers independent living, assisted living, and memory care living options at an all-inclusive monthly rental rate with no large entrance fees.
Our vision is to create a community where seniors have all the on-site services that they need to enjoy life and be stress free. We offer an extensive array of activities to keep you as busy as you like, plus superior amenities and services. Our expert team creates this warm, inviting, and fun filled lifestyle everyday every day for our residents. Stop by and see what's happening at The Fountains!
Our Residents are Happy!
Their testimonials speak for themselves
"I love living here at The Fountains of West County Independent Living because it's allowed me to really enjoy these older years without being burdened with all the chores of ordinary daily life. With those taken care of, I now have not just the time, but also the energy for more activities and for exploring new opportunities for learning and growth. I have always believed that older people should live together in communities to avoid loneliness and inspire them to pursue new interest to keep healthy and active. And that has proved to be very true for me here.
The Fountains has an outstanding staff who keep us busy with all kinds of events, entertainment and challenges and see that we ate always well cared for. You'll find we also have a congenial group of residents who are friendly and welcoming. Altogether it's a carefree and independent lifestyle which can't be beat!"
"I am Harry Van Dyke and became a resident of The Fountains of West County in April of this year and what a wonderful experience it has been! Truly the right decision for me to make. Thanks to Linda and her staff the entire move it was flawless.
The accommodations are "up town" and more than ever meet my needs. The apartment is spacious and bright. The restaurant is first class. The workers have personality and strive to make the dining experience enjoyable. Getting acquainted with all the resident makes dining so pleasant.
Each day there is something for everybody to do. The monthly activity calendar is full and includes trips through-out the area.
Let me say again… this was the right thing for me to do!"
"We moved my Dad and Stepmom to the independent living at The Fountains of West County about a year and a half ago. They loved it. However, as time went on my Dad's Alzheimer's got increasingly worse. My Stepmom also has it. It was time to move them to the new Assisted Living Memory Care building at The Fountains of West County. They have been there now for about 6 months. They love it and so do we. Their floor and their apartment are just like a regular independent floor residence. The community is brand new and beautiful. The nurses and staff are excellent. They are always there for the residents and families. They are so friendly and helpful. They always have a good sense of humor and a lot of patience. The entire staff is also extremely caring and responsible. We both find ourselves less worried about my Dad and Stepmom now, as we know they are getting great care. We would highly recommend The Fountains of West County."
I Love to be social… and The Fountains offers everything I could imagine and more!
I am proud to call The Fountains my Home!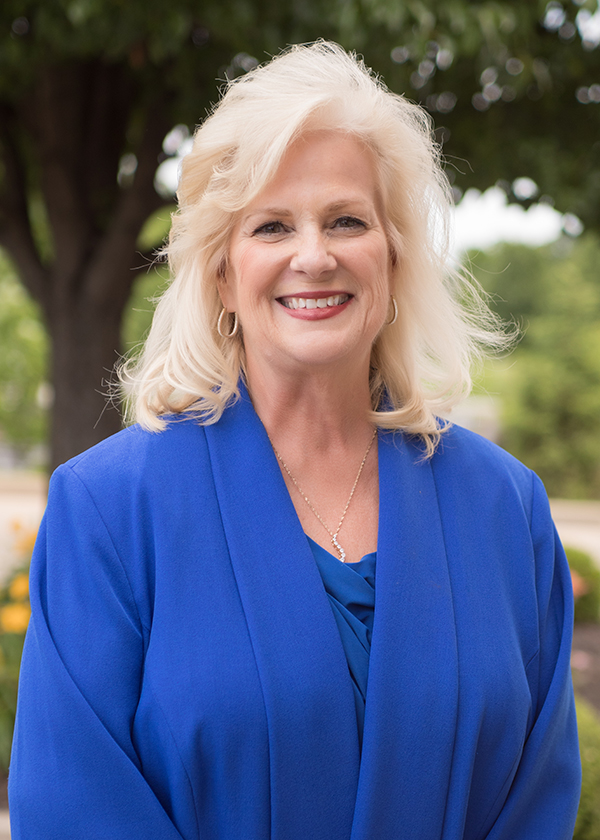 Janie Gammon, RN
Owner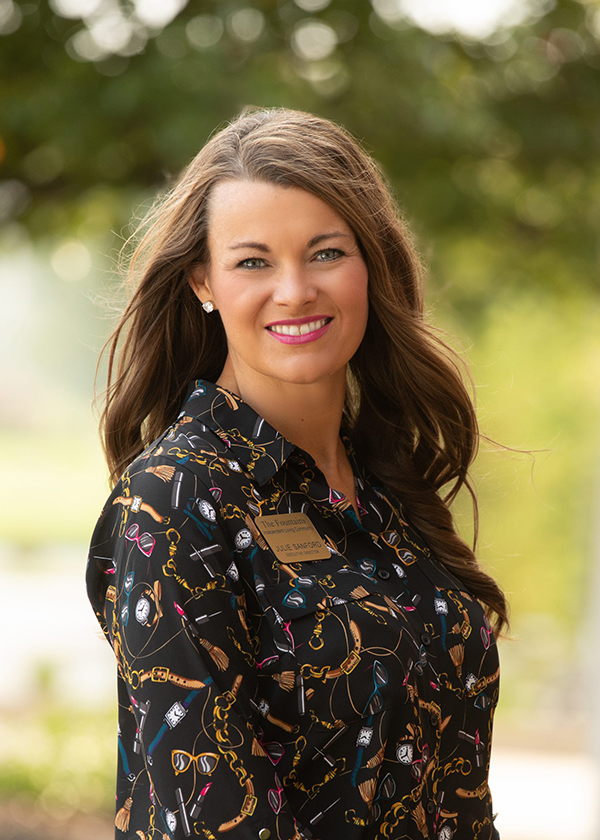 Julie Sanford
Executive Director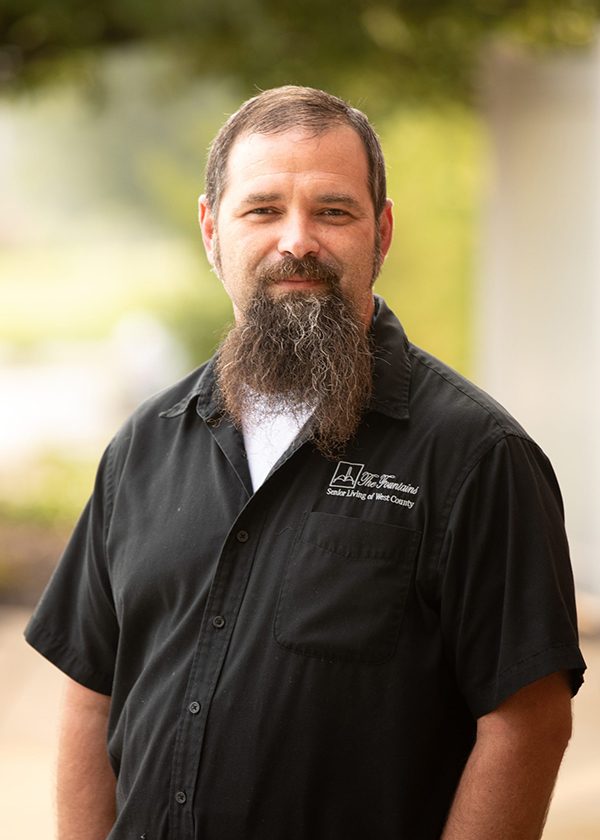 JB Gammon
Director of Maintenance
Jennifer Frazier
Assisted Living Lifestyle Director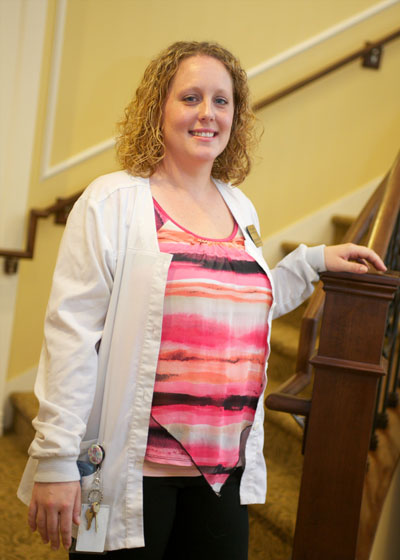 Jessica Thomas
LPN Assisted Living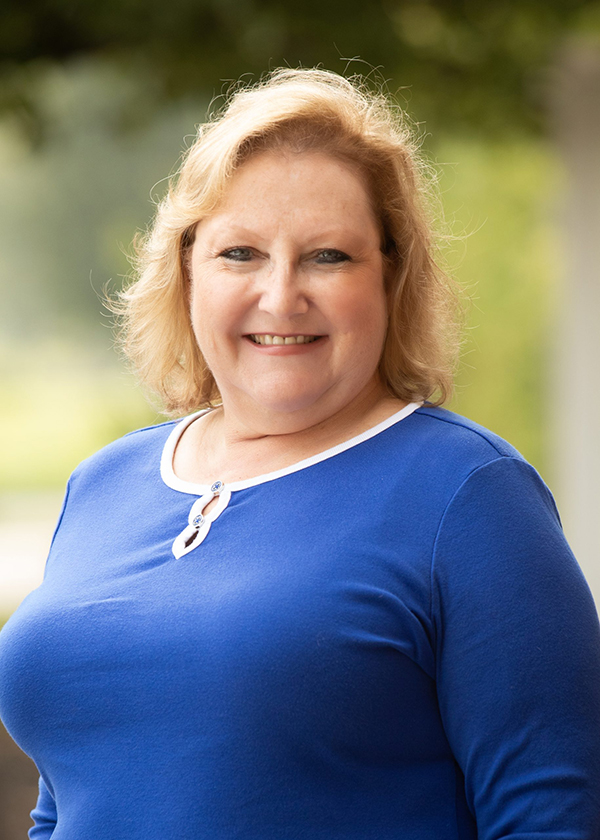 Sue Shine
Office Manager
Moving with Ease
Move In Coordination Services at The Fountains
Where Do I Begin?  We understand that moving is a stressful time.  Just remember the end result is you being settled in your new home at The Fountains!
Our goal is to be with you every step of the way.  Let us come to your home and measure your furniture and develop a personalized floorplan for your new apartment.  This is a complimentary service that we offer to help with the move in process.  Our dedicated marketing team will also help you coordinate all of the necessary resources such as realtors, estate sale companies, moving companies, and customize a moving plan that is just right for YOU. We can even help coordinate a service that helps with the packing and unpacking of your belongings. Ask us for details!
Helpful Tip:
Moving is never an easy thing to do. Don't allow yourself to become overwhelmed with the idea of it. Take advantage of the experience and expertise of The Fountains very own move in coordinator. We will lift the stress off your shoulders and help make this a positive and smooth experience.
Helpful Resources:
We've done the homework for you. Please contact us for an updated list of preferred providers in realtors, moving companies, estate sales, local area donation companies and more.